Elysian Beach Resort sits on the eastern side of St. Thomas. This resort is located next to the St. Thomas Yacht Club and provides you with beautiful views of the cove dotted with spectacular yachts. Nestled in the palm trees of St. Thomas, this Caribbean resort creates the romantic seclusion of paradise. Fall asleep to the relaxing sound of Caribbean waves, and wake in the morning for a relaxing walk on the white sandy beach right outside your door. The airport is a close nine-mile drive to the resort, and the nearby town of Red Hook is a short distance away.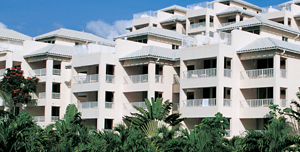 Elysian Beach Resort is an affordable Caribbean resort, great for group and reunion parties. The resort features 67 villas, each with a balcony overlooking the cove. Each villa has air conditioning, TV, kitchenette, coffeemaker, hair dryer, iron, and a safe. At the Elysian Beach Resort your stomach won't go hungry. This St. Thomas Resort offers two on-site restaurants that serve breakfast, lunch, and dinner. Dine in the evening and enjoy piano bar entertainment as the Caribbean paradise sets the mood. Bonnie's at the Sea and Robert's American Grille are both famous for their fresh island seafood and Caribbean specialties. For a special evening, take your loved one to visit the dazzling Ritz Carlton restaurant located close by the resort.
Elysian Beach Resort offers a variety of ways for you to unwind. Take a dip in the swimming pool, relax your muscles, or unwind in true bliss at the spa. If you're into a physical workout check out the health club, gymnasium, or basketball and tennis courts. If you're on a family vacation check out the beach, which is loaded with water sports that include wind surfing, kayaking, sailing, snorkeling, and scuba diving lessons! For those interested in visiting the world-renowned Magens Bay Beach, just hop on the free shuttles that depart daily from the resort. Take a stroll into the town of Red Hook and enjoy duty-free shopping, fishing, golf, restaurants and more entertainment. For those interested in seeing one of St. Thomas main cities, be sure to check out Charlotte Amalie, a scenic 30-minute drive away.