Island View is an attractive 12-room guest house that is located on Crown Mountain, St. Thomas. Island View B&B provides affordable accommodations for travelers interested in getting the best views of the island and great personal service, but who don't mind grabbing a taxi or rental car to see the sites.
Island View Guest House is conveniently located between the main town of Charlotte Amalie and the Cyril E. King Airport.
Each morning you will be treated to a complimentary continental breakfast or full breakfast that features a variety of home baked goods and mouth-watering smells. Island View Guest House offers an array of on site amenities for you to enjoy during your stay. Enjoy in-room amenities such as DVD players, television, hair dryers, iron, and Kitchenettes Available in Balcony Rooms. On site you'll also have access to wireless Internet, fax, laundry service, gas BBQ grill, library of Books, DVD'S and Games.
Island View Guest House features spectacular views from all the rooms. These spacious rooms feature Caribbean inspired decor that will brighten your room and your day. Each room at this St. Thomas B&B is individually decorated and provides affordable accommodations for any business traveler or group on a family vacation.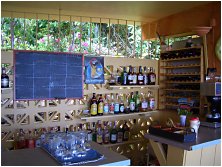 Take a refreshing dip in the swimming pool then relax by the "Honor Bar." Honor Bar is a unique do-it-yourself bar with several bottles of alcohol, mixers, and bartender's books. Mix up any cocktail of your desire, or blend yourself a delectable margarita to start off your trip. This Honor Bar is run on the honor system, where at the end of your stay you state how many drinks you made and it is added to your tab at a very reasonable price.
Check out the Activities Desk at Island View Guest House and let the friendly associates help you rent a car, get directions to the beach, learn the best restaurants, or book a variety of tours including dives, submarine rides, and more. The closest beach, Lindbergh Bay, is a five-minute ride down the hill, but the pool provides a place to sun while you enjoy the view.